LBK's Rebel and Proud Find Me On The Road "Sebastian"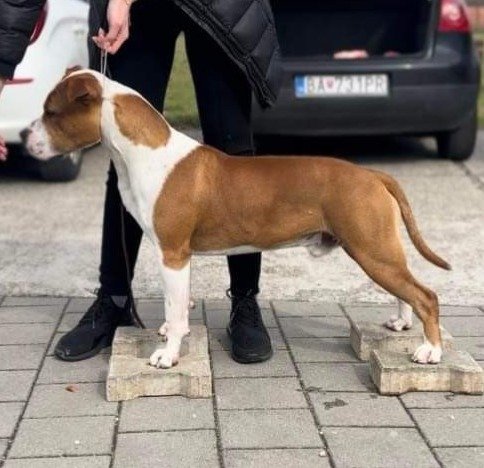 Breeder:
Lacey & Luisma Benítez
Owner:
Lacey & Luisma Benítez
Sebastian is a young and handsome Amstaff with an exceptional temperament. He's looking for a loving forever home. Sebastian is well-behaved and eager to find a family to share his life with. He's okay with other female dogs and is a friendly and sociable companion.

Sebastian is the son of the top-winning Amstaff in the history of the breed and has inherited remarkable qualities. He boasts natural ears, is up to date with all his vaccines, and is ready to be a loyal and loving addition to your family.

The adoption fee for Sebastian is $3500, which includes all the care and love he's ready to offer. If you're seeking a remarkable Amstaff with a champion lineage and a loving personality, consider giving Sebastian a forever home.
Health Tests
NCL-A Cerebellar Ataxia: clear by parentage
Pedigree
MBIS MBISS GCHG Alpine's LBK Living on the Road

CH Sbigstaff Enuf Is Enuf For Lbk

CH Alpine's Rio Grande

CH Castle Rocks Precious Gem

CH Alpine's Isn't She Lovely

CH Alpine's Ring Of Fire

CH Sindelar's Sweet Child O Mine

GCH LBK's Rebel and Proud She's Got the Look

CH LBK's Party Like a Rockstar

CH Alpine's Highwayman

CH Revolution's Double Stuffed

CH LBK's MuleCreek Whiskey Lullaby

CH Alpine's Lonewolf Whisky River

CH Lbk's Enuf Talk About Ruby Of Mulecreek